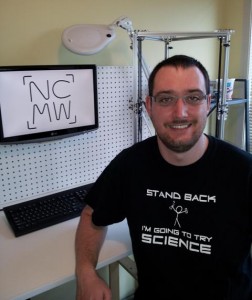 Hi,
My name is Nick Comyn and I created NCMachineWorks.ca as a forum for me to document my many projects as I work on them. I live in Vancouver, Canada and work as a Naval Architect during the day and spend my evenings pursuing numerous technical hobbies.
During high school I developed a love for woodworking in shop class and have built up a modest collection of tools that allow me to continue making projects when time and space allow. During university I became interested in CNC machining and have built two CNC routers of my own design and have ideas for many more. After graduation I have become increasingly interested in electronics via the Arduino platform. Recently, I have been experimenting with 3d printing which along with electronics makes for a much more apartment friendly hobby than wood and metal working. My blog will be a mixture of all of these fields (often combined) and many more as I work through different projects and my focus shifts over time.
I am a strong believer in open source hardware and software as much of what I do with electronics, CNC and 3d printing would not be possible without the information made available by other passionate hobbyists. A few of the sites that I check on a daily basis to learn and get inspiration from are listed below.

Content aggregators: